About the Lewis Ridge Project
The Lewis Ridge pumped storage project is located near the town of Pineville, Kentucky. The project site sits on a former coal mine in an active coal mining area. As fossil fuels are phased out of the grid across the nation, coal communities face uncertain employment and economic futures. Projects like Lewis Ridge create new jobs and economic activity in energy communities.
Project Benefits
Economic Benefit
Lewis Ridge marks a $1.5+ billion investment in southeastern Kentucky
Jobs
The project will create over 1500 family-wage jobs
Infrastructure
Investing in the region's infrastructure will ensure its economic viability for years to come
Trained Workforce
Coal communities bring the history and knowledge necessary to deliver clean energy projects and economic benefits
Renewable Energy Transition
Lewis Ridge provides 24/7 on-demand renewable energy to the region's homes and businesses, ensuring decades of low-cost, carbon free energy for future generations
How does pumped storage work?
About Rye Development
Rye Development is a leading developer of new low impact hydropowered energy generation and energy storage in the United States. With a pipeline of 25 projects across the U.S., Rye is committed to the responsible development of untapped hydropower resources while maintaining rivers' balance of environmental and commercial requirements. In conjunction with financing partner, Climate Adaptive Infrastructure Fund, Rye brings communities around the country substantial infrastructure, job creation, and a local source of renewable, non-consumptive energy.
Our other pumped storage projects
Goldendale
The Goldendale Energy Storage Project is a 1200 MW, 12-hour energy storage facility located eight miles southeast of Goldendale, Washington. The Goldendale Energy Storage Project is a cornerstone of both Washington's and the broader Pacific Northwest's clean energy economy. It will provide quality jobs and rural economic development while helping Washington and the region meet its clean energy goals with minimal environmental impacts.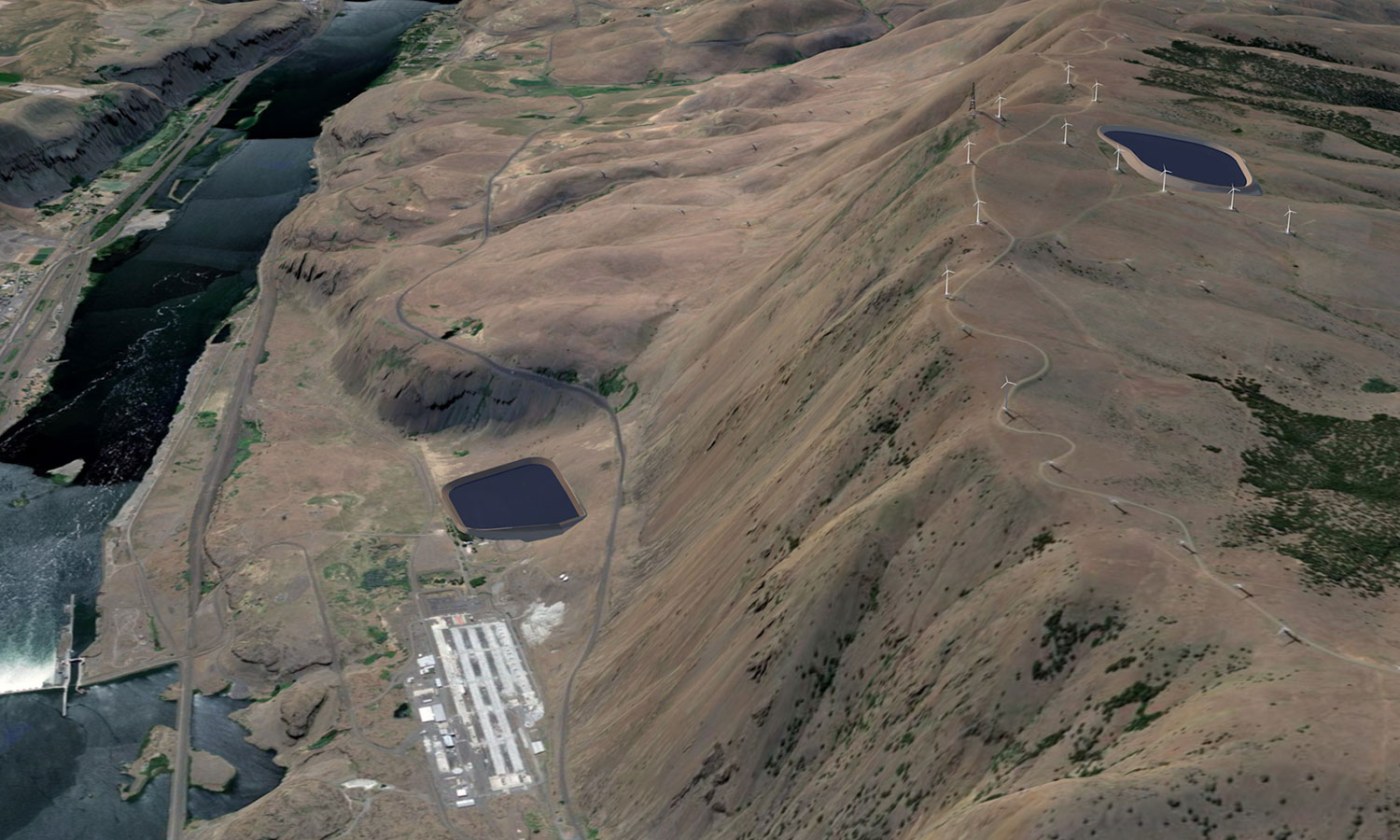 Swan Lake
The Swan Lake Energy Storage Project is a 393 MW, 9.5 hour energy storage facility located in Klamath County, Oregon.
Swan Lake leverages its proximity to critical north-south electric transmission access, ultimately storing the region's abundant wind and solar electricity to use when it is needed. Swan Lake is fully permitted and construction is breaking ground in 2023.